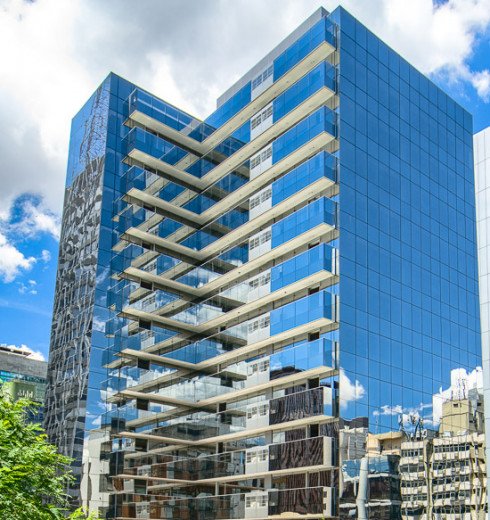 HIGH STANDARD FOR BUSINESS.
In the main geographical, financial and tourist framework of São Paulo and under very high technological standards, PJM 109 is a development renowned by botti rubin arquitectos Associados. Its modern "L" architecture houses 15 floors for high-end smart offices.
PJM 109 is designed to optimize the circulation and occupation of its large spaces. The building features modern access and innovative infrastructure, marked by excellence and the high level of finishes.
Elegance and flexibility synthesize the main features present in their internal spaces.
Plant type - 534 m²
Facade with laminated glass
Lobby with Double ceiling height
Facade with laminated glass
Infrastructure for the air conditioning VRF multi split individualized system.
The best business address in São Paulo
Generator to supply 100% power to the Apts in the absence of utility supply
Fire combat system with and smoke detectors, pressurized stairs, fire doors, fire hydrants and sprinklers
Prediction for closed TV circuit, turnstiles, gates and 24h surveillance.
Rua Padre João Manuel, 109
Access and Transportation
Metrô linha verde
Metrô linha amarela
Metro linha azul
Ciclofaixa
Av. Paulista
Av. Nove de Julho
Av. Rebouças
Al. Santos
Rua Augusta
Infrastructure and Services
FNAC
Livraria Cultura
Restaurante Capim santo
Bistrô Le Vin
Churrascaria Fogo de Chão
Livraria Cultura
Leisure and Entertainment
MASP

Parque Trianon

Fundação Itaú Cultural

Teatro Gazeta
Shopping
Shopping Paulista
Shopping Center 3
Rua Oscar Freire
Rua Haddock Lobo
Legal text
PJM Empreendimento Imobiliário SPE S.A. – Av. das Nações Unidas, 11541 – cobertura – Brooklin Novo – São Paulo – SP. CEP 04578-000. Material preliminar sujeito a alterações. Perspectiva ilustrada da implantação. Ilustração artística da vegetação com porte adulto que será atingido anos após a entrega do empreendimento. O porte da vegetação na entrega do empreendimento será de acordo com o projeto de paisagismo. *Áreas calculadas pelo método BOMA. O detalhamento dos acabamentos, equipamentos e serviços que farão parte deste empreendimento consta no material descritivo em poder da proprietária. Os móveis, acabamentos e utensílios utilizados nas plantas e perspectivas ilustradas são mera sugestão de decoração. Essas áreas serão entregues conforme memorial descritivo de acabamentos do empreendimento. A unidade poderá sofrer pequenos ajustes decorrentes do desenvolvimento dos projetos executivos de estrutura, arquitetura e instalações. As medidas dos ambientes são de face a face das paredes no revestimento. Alvará de execução de reforma: nº 2014/14532-00. DEPAVE: TCA nº 079/2014. CONPRESP: Ofícios nº 0781/CONPRESP/2013 e nº 0054-R/CONPRESP/2014. CONDEPHAAT: Ata nº 1732 de 09/12/2013 e nº 1738 de 17/02/2014. SMT (CET): Certidão de diretrizes nº 081/13. Memorial de Incorporação registrado sob o nº 04, da Matrícula 95.963, em 22/07/14.