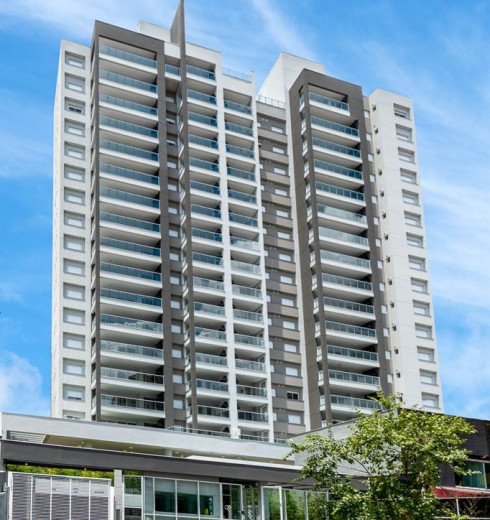 Your lifestyle with more inspiration.
Welcome to the Art Architecture. More than a new housing concept, a new way to relate to her. A unique project, in partnership with artists, transforms residential buildings in true works of art, always noble regions of São Paulo.
With artwork of James Tebet, Itamar Berezin architecture, sophisticated common areas with high ceilings and 47 m ² to ² 97m, with exclusive services, Art Architecture was born the 5th release Moema, this hit series.
In Moema you find everything you need to live well in your daily life: schools, gyms, restaurants, future 2 subway stations and bike path, not to mention the privilege of being close to the Ibirapuera Park.
Barbecue
Space Kids
Playground
Game room
Ballroom with Gourmet Space and Terrace
Adult and children's pools with wet deck
External parties
Laundry
Sundeck
Spa with sauna and massage
Spa with sauna, massage and Rest
Adult pool
Children's pool
Contemporary facade
Home office
Heated indoor pool with 25m lap
Lobby with double height
Fitness with double height wall
Garden under pergola
Entrance lobby with double height and artwork of James Tebet
Outdoor lounge
Plan type - 97 sqm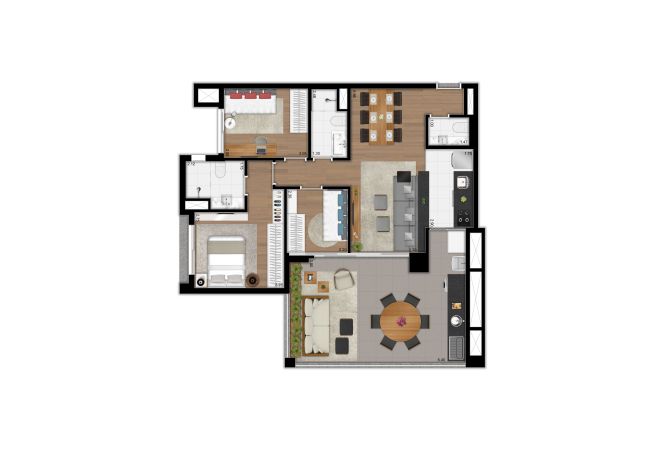 Raised floor gourmet terrace with barbecue grill
Air conditioning in the suite, bedrooms and living room
Central heating for bathrooms and kitchen
Noise dampening window frames
Extended countertop in the kitchen, allowing built-in stove
USB slot in the living room
Lavatory
2 parking spaces
Private storage
Plan option - 97 sqm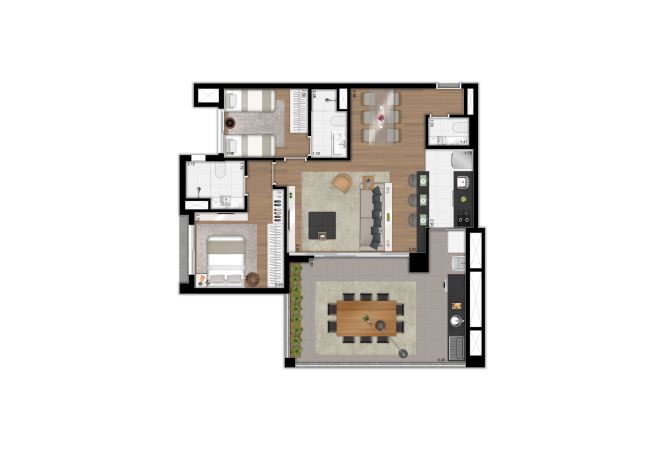 Raised floor gourmet terrace with barbecue grill
Air conditioning in the suites and living room
Central heating for bathrooms and kitchen
Noise dampening window frames
Extended countertop in the kitchen, allowing built-in stove
USB slot in the living room
Broad opening from the living room to the terrace
Lavatory
2 parking spaces
Private storage
Plan type - 79 sqm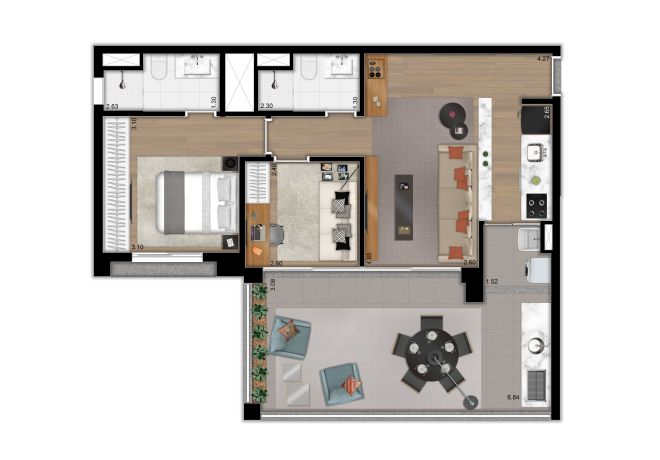 Raised floor gourmet terrace with barbecue grill
Air conditioning in the suite, bedroom and living room
Central heating for bathrooms and kitchen
Noise dampening window frames
Extended countertop in the kitchen, allowing built-in stove
USB slot in the living room
2 parking spaces
Private storage
Plan option - 79 sqm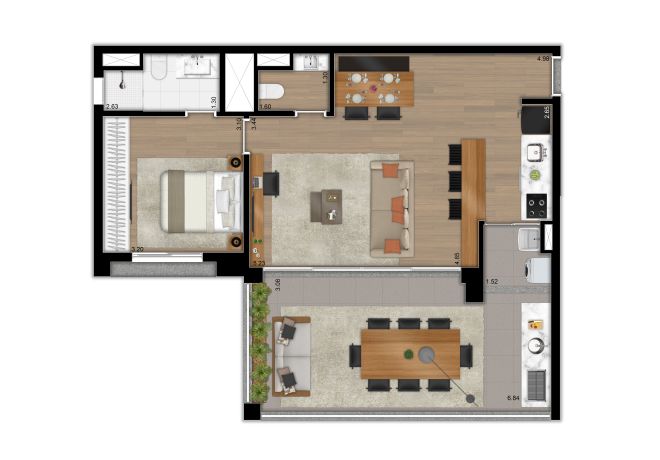 Gourmet terrace with barbecue grill and pizza oven
Air conditioning in the suite and living room
Central heating for bathrooms and kitchen
Noise dampening window frames
Extended countertop in the kitchen, allowing built-in stove
Broad opening from the living room to the terrace
USB slot in the living room
Lavatory
2 parking spaces
Private storage
Plan type - 47 sqm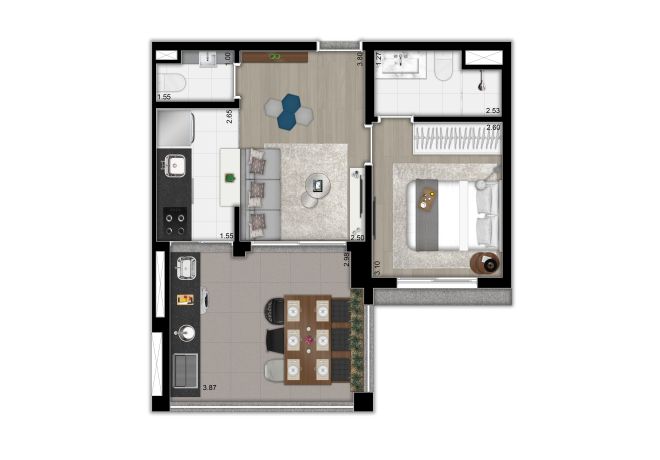 Raised floor gourmet terrace with barbecue grill
Air conditioning in the suite and living room
Central heating for bathrooms and kitchen
Noise dampening window frames
Extended countertop in the kitchen, allowing built-in stove
Extended countertop on the terrace with stainless steel sink
USB slot in the living room
Lavatory
1 parking space
Private storage
Plan option 47 sqm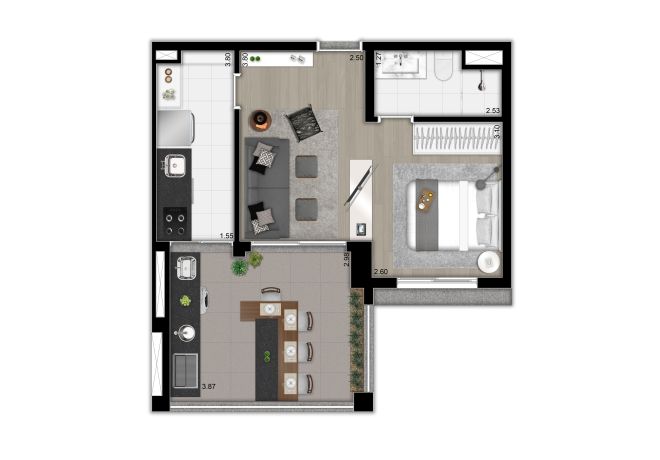 Raised floor gourmet terrace with barbecue grill
Air conditioning in the bedroom and living room
Central heating for bathroom and kitchen
Noise dampening window frames
Extended countertop in the kitchen, allowing built-in stove
Extended countertop on the terrace with stainless steel sink
USB slot in the living room
1 parking space
Private storage
Single tower
2904 sqm plot of land
Artwork by Tiago Tebet
Glass balustrade on the terrace
Private storage
Noise dampening window frames
Charging station for electric car in the parking lot
Raised floor terrace
Single tower
Privileged location
Equipped and decorated common areas
Central heating for bathrooms and kitchen
Laundry
High ceiling entrance lobby, gym and party hall
Air conditioning in the living room, bedrooms and suites
Access and Transportation
Future subway Moema
Future station subway Eucalyptus
Bikelane
Congonhas airport
Avenida Ibirapuera
Bandeirantes Avenue
23 May Avenue
Avenida Republic of Lebanon
Avenida Santo Amaro
Infrastructure and Services
Trade in high standard
Dry cleaners
Schools
Decoration stores
Boutiques
Leisure and Entertainment
Ibirapuera Park
Parque das Bicycles
Clube Atlético Mount Lebanon
Syrian Sports Club
Excellent bars and restaurants
Praça Nossa Senhora Aparecida
Shopping
Decoration stores
Boutiques
Ibirapuera Shopping Mall
Normandy Street