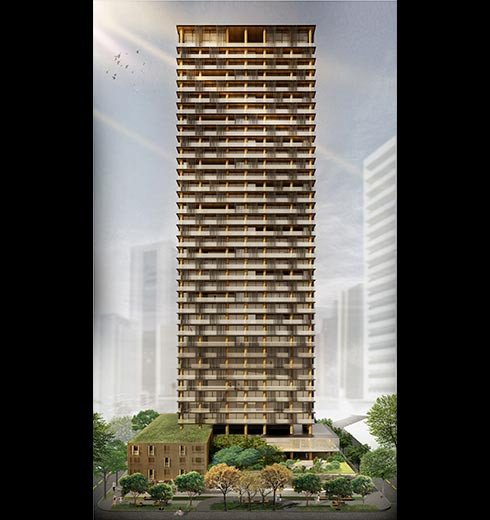 Henrique Monteiro Square By Arthur Casas.
Resignify spaces and the way of living.
In a short and reserved travessa av. Faria Lima, where the charming Jardim Paulistano meets the contemporary Pinheiros.
Everything was thought of: Architecture, Urbanism, Design, Hospitality, Gastronomy and Structure of amenities create a way of cosmopolitan living, with everything you can have.
Fitness
Space Kids
Pool
Indoor garden located on the ground floor (Natural soil)
Elevated and Private Garden
Type. 232m² - 3 Suites - Closed Kitchen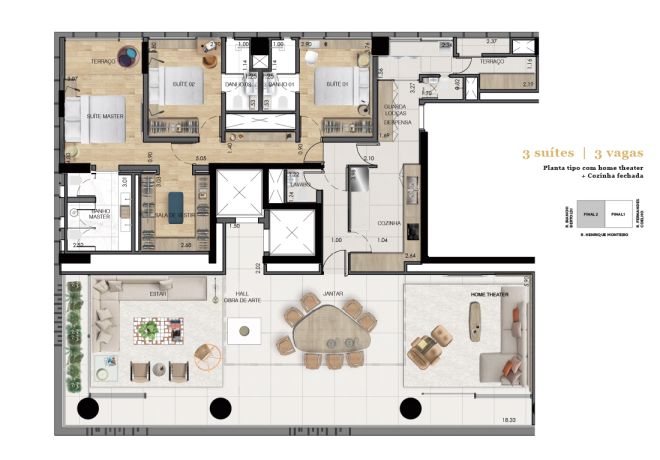 3 Suites
3 Vacancies
Closed Kitchen
Home Theater
Type of 232m² - 2 Suites - Open kitchen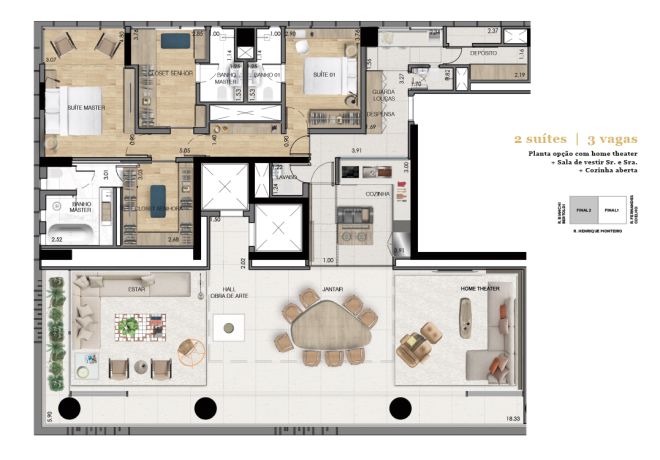 2 Suites
3 Vacancies
Bath room and Dress Up Mr and Mrs
Open Kitchen
Home Theater
Restaurant
Boulangerie
Boutique Hotel
Gastronomia: Bistrô Charlô
Interior Design: Studio Arthur Casas
Rightfoot of the fit. type 2.50m
Infrastructure for future air conditioning installation
Jack for Toalheiro and USB socket
Solar Central Heating System
Rainwater reuse forecast.

Wooden doors with H=2.30m

Previsão de tomada para carga de carro elétrico nos subsolos.
Cloisters: Vehicles/Pedestrians for social entrance and service.
Rua Henrique Monteiro, 154
Infrastructure and Services
Direct connection to the best part of the city and where it evolves
The meeting between Pinheiros, Jardim Paulistano and Avenida Faria Lima is today the epicenter of a major urban transformation that drives the development of dozens of urban, residential and corporate projects In recent years, the arrival of the subway, bike paths and new constructive parameters has made the region one of the most sought after by investors and entrepreneurs in the real estate market.
Legal text
HHENRIQUE MONTEIRO EMPREENDIMENTOS IMOBILIÁRIOS SPE S.A. CNPJ: 26.607.758/0001-86. INCORPORAÇÃO REGISTRADA SOB R.5 NA MATRÍCULA 153.775 DO 10º OFICIAL DE REGISTRO DE IMÓVEIS EM 07/11/2019. O DETALHAMENTO DOS EQUIPAMENTOS E ACABAMENTOS QUE FARÃO PARTE DESTE EMPREENDIMENTO CONSTA NO MEMORIAL DESCRITIVO, NA CONVENÇÃO DE CONDOMÍNIO E NO COMPROMISSO DE COMPRA E VENDA. AS MEDIDAS DOS AMBIENTES SÃO DE FACE A FACE DAS PAREDES NO REVESTIMENTO. OS MÓVEIS, EQUIPAMENTOS E UTENSÍLIOS APRESENTADOS NAS ILUSTRAÇÕES NÃO FAZEM PARTE DO CONTRATO DE COMPRA E VENDA DAS UNIDADES AUTÔNOMAS. OS MODELOS, DIMENSÕES E ACABAMENTOS DAS LOUÇAS SANITÁRIAS, CUBAS, REVESTIMENTOS E BANCADAS SÃO MERA SUGESTÃO DE DECORAÇÃO E ESTES ITENS SERÃO ENTREGUES CONFORME MEMORIAL DESCRITIVO E PLANTA ANEXOS AO CONTRATO. A PLANTA AQUI ILUSTRADA PODERÁ SOFRER AJUSTES DECORRENTES DA ELABORAÇÃO DOS PROJETOS EXECUTIVOS DE ESTRUTURA, ARQUITETURA E INSTALAÇÕES. EM ALGUNS AMBIENTES PODERÃO EXISTIR SANCAS E/OU FORROS DE GESSO PARA PASSAGEM DE INSTALAÇÕES E VIGAS APARENTES COMO ELEMENTOS ESTRUTURAIS. INTERMEDIAÇÃO: COELHO DA FONSECA - CRECI J-961. IMOBILIÁRIA 252 LTDA – CRECI: J-30634. STAN INCORPORADORA S.A. – CRECI: 21.541J. ESTAN'IMÓVEIS ASSESSORIA IMOBILIÁRIA LTDA - CRECI : 023183-J