High standards for business
Located at the main geographical, financial and touristic landmark of São Paulo, and designed with high technological standards, PJM 109 is a project by Botti Rubin Architects.
The project features a modern architecture in the shape of an "L" and 15 floors of broad spaces for business offices. The design is meant to optimize movement in and use of its wide spaces. The building offers easy access and innovative infrastructure, marked by excellence and high standard finishes.
Elegance and flexibility summarize the characteristics of this project.
Plant type - 534 m²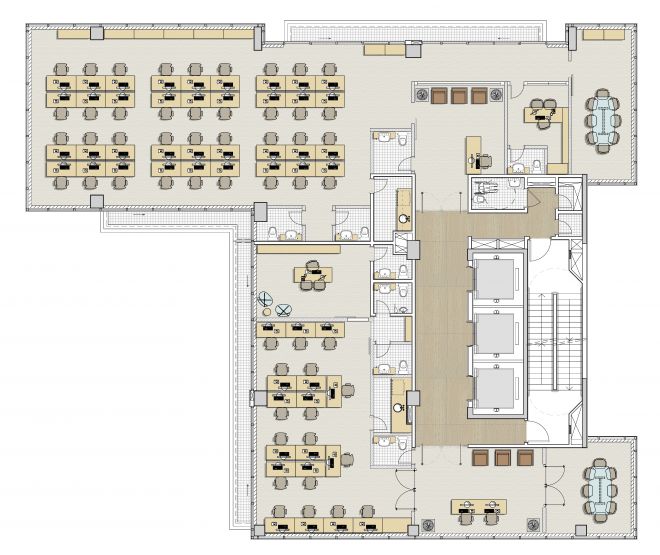 Facade with laminated glass
Lobby with Double ceiling height
transition elevators to the basement
Infrastructure for the air conditioning VRF multi split individualized system.
The best business address in São Paulo
Generator to supply 100% power to the Apts in the absence of utility supply
Fire combat system with and smoke detectors, pressurized stairs, fire doors, fire hydrants and sprinklers
Prediction for closed TV circuit, turnstiles, gates and 24h surveillance.
Rua Padre João Manuel, 109
Access and Transportation
Green subway line
Yellow subway line
Blue subway line
Bicycle path
Av. Paulista
Av. Nove de Julho
Av. Rebouças
Al. Santos
Rua Augusta
Infrastructure and Services
FNAC
Livraria Cultura
Restaurante Capim santo
Bistrô Le Vin
Churrascaria Fogo de Chão
Livraria Cultura
Leisure and Entertainment
MASP
Parque Trianon
Itaú Cultural
Teatro Gazeta
Shopping
Shopping Paulista
Shopping Center 3
Rua Oscar Freire
Rua Haddock Lobo
Legal text
PJM Empreendimento Imobiliário SPE S.A. – Av. das Nações Unidas, 11541 – cobertura – Brooklin Novo – São Paulo – SP. CEP 04578-000. Primary Material subject to change. Perspective illustrated deployment. Artistic illustration of vegetation with adult size to be reached years after the delivery of the project. The size of the vegetation in the delivery of the project will be according to the landscaping project. * Areas calculated by BOMA method. The details of finishes, equipment and services that will be part of this project consists in the descriptive material in the possession of the owner. The furniture, finishes and appliances used in plants and illustrated prospects are mere decoration suggestion. These areas will be delivered as descriptive memorial project finishes. The unit may suffer minor adjustments arising from the development of the executive project structure, architecture and facilities. Measures environments are face to face walls of the coating. Permit reform implementation: No 2014 / 14532-00. DEPAVE: ACT No. 079/2014. CONPRESP: Ofícios nº 0781/CONPRESP/2013 and nº 0054-R/CONPRESP/2014. CONDEPHAAT: Minute nº 1732 de 09/12/2013 e nº 1738 de 17/02/2014. SMT (CET): Certificate guidelines No. 081/13. Merger Memorial registered under No. 04, the enrollment 95,963, in 7.22.14.