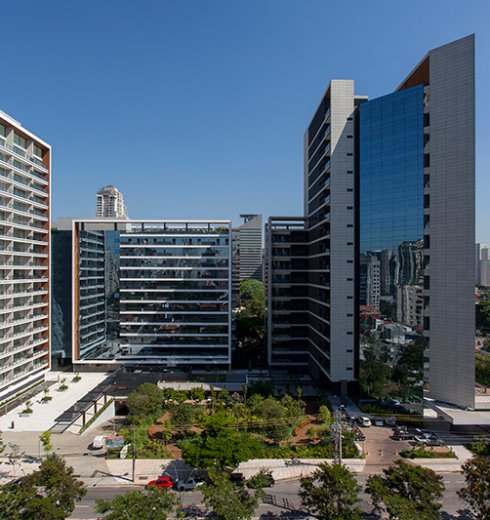 Sua empresa no endereço comercial mais importante da América Latina.
No principal centro empresarial de São Paulo, o F.L Office é a opção perfeita para seus negócios.
A região da Av. Faria Lima, também é conhecida como a Wall Street brasileira, tem a maior concentração de bancos, edifícios comerciais, restaurantes, lojas, shoppings e todos os tipos de serviço. Tem acesso fácil à ciclovia, grandes parques e a toda rede de transportes. É o melhor lugar para morar, investir e ter o seu negócio.
O F.L Office faz parte do complexo F.L 4300 que, além dele, reúne o F.L Corporate e o F.L Residence, interligados pela F.L Square, uma praça com 1200m² de uso livre que conta com uma unidade do restaurante Maremonti.
Sua localização privilegiada, sua arquitetura inovadora e suas soluções inteligentes serão incorporados à marca da sua empresa, posicionando-a como referência de grandes negócios.
Plant type - 59 m²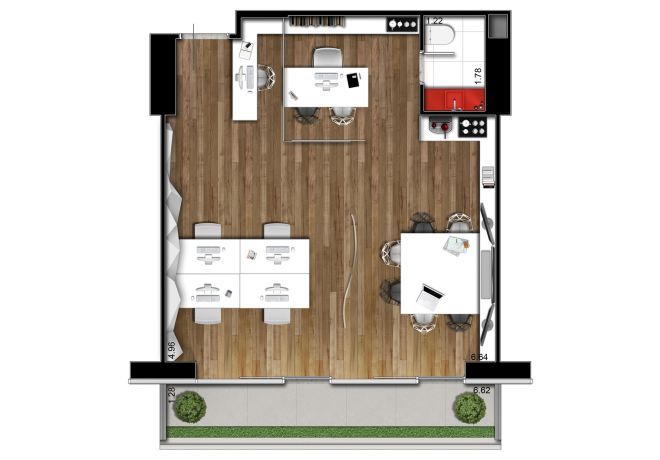 Allows configuration of various environments large terrace Terrace with high-floor
Entrance hall with 100% glazed closing
Elevators hall on the floors with large glazed area and view over the square
Top quality finishing
2.80 m ceiling height
Facade of glazed units from floor to ceiling
air conditioning infrastructure for split type
Pressurized safety stairways with space for wheel chair users
Circulation of the stories with natural light
Prediction for raised floor
Prediction of ceiling with space for piping
Individual balconies
Entrance hall with 100% glazed closing
Avenida Faria Lima 4300 - Pinheiros - São Paulo - SP - CEP 05421
Access and Transportation
Av. Faria Lima
Av. Juscelino Kubitschek
Av. Hélio Pelegrino
Av. Santo Amaro
Av. das Nações Unidas
Rua Funchal
Rua Tabapuã
Estação Faria Lima do Metrô
Infrastructure and Services
Maremonti
Bistrô San vin Saint
Empório Ravioli
Bodytech
Reebok Sports Club
Café de la Musique
Charles Edward
Barbaro
Bar Vila Rica
Aeroporto de Congonhas
Leisure and Entertainment
Parque Ibirapuera
Parque do Povo
Clube Pinheiros
Clube Hebraica
Rio Pinheiros bicycle path
Bicycle path
Rua Amauri
Shopping
Shopping Vila Olímpia
Shopping Iguatemi
Shopping Iguatemi JK
Rua João Cachoeira
Rua Dr. Mário Ferraz
Legal text
Kino Empreendimento Imobiliário SPE Ltda. CNPJ: 09.021.848/0001-71. Av. Nações Unidas, 11.541 – Cobertura - Brooklin Novo. CEP: 04578-000 - São Paulo. de incorporação registrado sob o R.02 na matrícula 178.894 em 20/4/2011. O projeto contará com dois condomínios distintos com possibilidade de livre passagem entre eles. O detalhamento dos serviços, equipamentos e acabamentos que farão parte deste empreendimento constam do memorial descritivo, da convenção de condomínio e do compromisso de compra e venda. Os móveis, equipamentos e utensílios utilizados nas ilustrações artísticas são mera sugestão de decoração. Estas áreas serão entregues conforme memorial descritivo do empreendimento. Perspectiva artística da vegetação com porte adulto que será atingido anos após a entrega do empreendimento. O porte da vegetação na entrega do empreendimento será de acordo com o projeto de paisagismo.