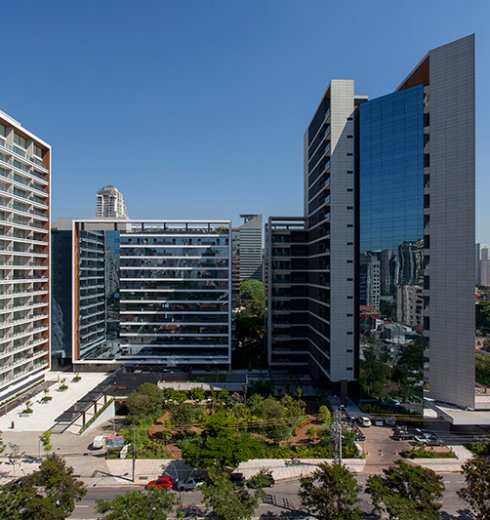 Your company in the most important business address in Latin America.
Located in the main business center of São Paulo, FL Office is the perfect choice for your business.
The region of Av. Faria Lima, also known as the Brazilian Wall Street, has the highest concentration of banks, commercial buildings, restaurants, shops, malls and all kinds of services. It also offers easy access due to the bicycle path, proximity to the major avenues and the whole range of transport network. It is the best place to live, invest and take your business.
FL Office is a part of the FL 4300 complex, along with FL Corporate and FL Residence, interconnected by FL Square, a 1200 m² free uses square with a Maremonti restaurant. Its privileged location, innovative architecture and smart solutions will be incorporated into your company's brand, positioning it as a major business reference.
Plant type - 59 m²
Allows configuration of various environments large terrace Terrace with high-floor
Avenida Faria Lima 4300 - Pinheiros - São Paulo - SP - CEP 05421
Access and Transportation
Av. Faria Lima
Av. Juscelino Kubitschek
Av. Helio Pelegrino
Av. Santo Amaro
Av. das Nações Unidas
Rua Funchal
Rua Tabapuã
Faria Lima subway
Infrastructure and Services
Maremonti
Enoteca Saint Vin Saint
Empório Ravioli
Bodytech gym
Reebok Sports Club
Café de La Musique
Bar Charles Edward
Barbaro
Bar Boteco Vila Rica
Congonhas airport
Leisure and Entertainment
Parque Ibirapuera
Parque do Povo
Clube Pinheiros
Clube Hebraica
Rio Pinheiros bicycle path
Bicycle path
Rua Amauri
Shopping
Shopping Vila Olímpia
Shopping Iguatemi
Shopping Iguatemi JK
Rua João Cachoeira
Rua Dr. Mário Ferraz
Legal text
Kino Empreendimento Imobiliário SPE Ltda. CNPJ: 09021848 / 0001-71. Av. Nações Unidas, 11.541 – Cobertura - Brooklin Novo. ZIP CODE: 04578-000 - São Paulo. incorporation registered under R.02 in enrollment 178,894 on 20/04/2011. The project will have two distinct condominiums with the possibility of free passage between them. The breakdown of services, equipment and finishes that will be part of this undertaking are set out in descriptive memorial, the condominium agreement and the purchase and sale commitment. The furniture, equipment and utensils used in artistic illustrations are mere decoration suggestion. These areas will be delivered as descriptive of the enterprise memorial. artistic perspective vegetation with adult size to be reached years after the delivery of the project. The size of the vegetation in project delivery will be according to the landscaping project.